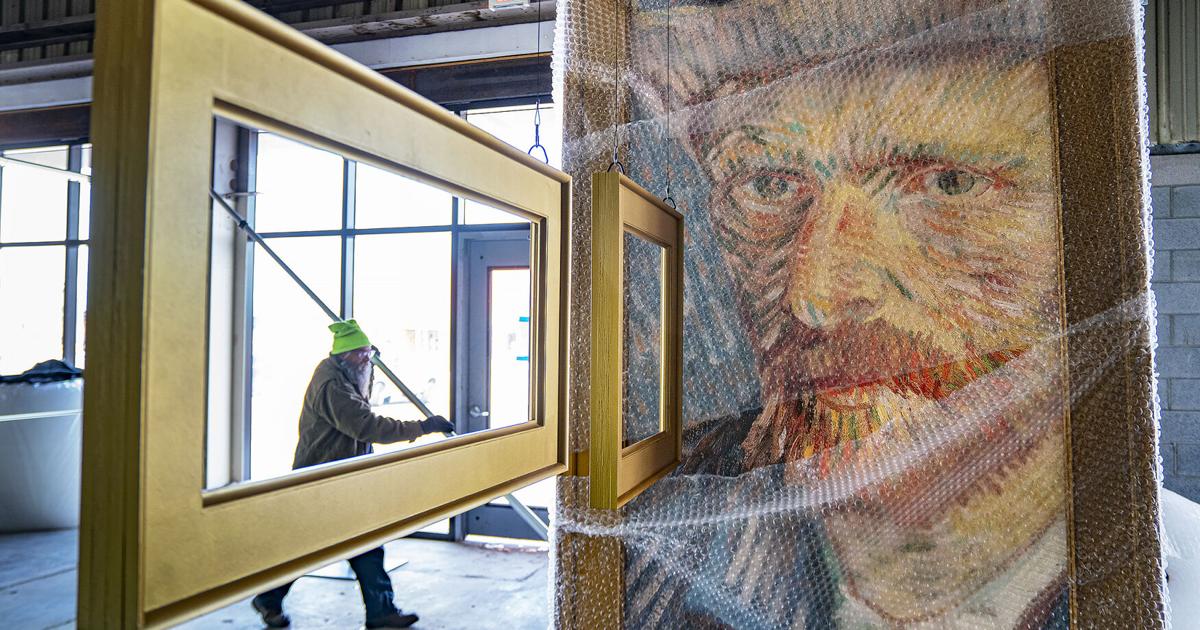 Immerse yourself in a Dutch master | Local News
The ghost of a famous Dutch post-impressionist will soon haunt some Albuquerque warehouse.
Perhaps it is more accurate to say that 300 of his paintings will haunt the venue, enveloping him and all who visit in an immersive virtual exhibition of the work of Vincent van Gogh (1853-90).
That experience is coming to Albuquerque in full force Wednesday with the opening of Beyond Van Gogh: the immersive experience at the Immersive Pavilion in Duke City's Sawmill District.
Some 40 digital projectors will display ever-changing virtual images of van Gogh's paintings in a 25,000 square foot room that otherwise resembles the kind of place – days before the exhibition opens – where one might find pallets full of boxes of stored paper towels.
These images – imagine a version 20 feet high and 100 feet wide The starry Night swirling above and around you – will be accompanied by classical music and audio of an actor reading van Gogh's diary.
Watching a video of visitors viewing the exhibition in another city, it looks like they are walking on the ocean floor with Van Gogh flowers swimming around them.
Call it a van Gogh funhouse for those looking for a new way to see old art.
"It's one thing to be in a museum and watch your [van Gogh's] work on the wall," said Jason Taylor, Site Technical Manager for Beyond Van Gogh. "But imagine being in a room with video of his work all around you, under you – on the walls, on the floor, everywhere.
"It's immersive," he said.
Primo Entertainment, headquartered in Miami, is responsible for the traveling immersive exhibit, which began at the start of the pandemic. This is not the only such project centered on the work of a famous artist. Similar exhibits featuring the work of Monet, Rembrandt and Kahlo can be found touring the world.
Such modern approaches to introducing people to age-old masters can appeal to those who have never set foot in a museum, said James Korenchen, the Albuquerque-based spokesperson for the show.
"It's a much more relaxed environment," he said. Many people may be familiar with van Gogh's most famous works, including The starry night, cafe terrace at night and self-portraits, he says, but this exhibition "brings 300 to life."
It's the kind of exhibit where kids don't have to stand still, people probably won't 'sssshhh' at you and you can sit on the floor or in chairs and watch this artistic starry night all around you, he said.
Such virtual displays of old classics are sure to displease some. Art historian and University of Washington professor Marek Wieczorek told PBS NewsHour that he thought it was "cool" that people watching the immersive van Gogh show he attended were clearly enjoying themselves.
But, he pointed out, he also felt it deprived them of the experience of seeing, assimilating and interpreting the actual works of the artist for themselves. And, he said, the paintings' virtual colors do not match van Gogh's original light images.
But such displays can trickle down to a digitally-literate demographic eager to roam an artistic romper room that's perfect for taking iPhone photos and videos. New Yorker Writer Anna Wiener, in an article published this month, said such shows are growing in popularity because they reflect "the rise of consumer digital technologies and the behaviors and expectations they cultivate.
"Many moved up into empty or transient commercial spaces, as a stopgap of sorts, until a new tenant arrived," she wrote. "Cities these days are full of empty stores, event spaces and theaters."
As a business venture, the Albuquerque exhibit will include access to a gift shop where patrons can purchase van Gogh prints, van Gogh paint-by-number art sets, and van Gogh t-shirts. . This shop also sells van Gogh dolls, which, despite their cuddly nature, lack an ear. (You may recall that the 19th century Dutch artist, who suffered from a form of mood disorder, cut off one of his ears in what we might delicately call a fit of despair .)
Jill Harvey, head of merchandising for the exhibit, watches as people walk out of the exhibit and into this shop full of tears, smiles and other physical — including goosebumps — displays of emotion.
She said if people come to the immersive experience not knowing or caring who van Gogh is, they might leave wanting to know more about his life and work.
"It's not like walking into a gallery or a museum," she said. "It's funny; he kisses you.
"Hug" is the word Albuquerque and Scottsdale resident Steven Chamberlin, who saw Beyond Van Gogh in Scottsdale, also used. Chamberlin, who was well acquainted with van Gogh's work – "he was probably high on drugs, I think, but his stuff is wild and crazy and speaks to you" – said that as a regular visitor to the museum, he was skeptical of such an exhibition.
But he went there one day in late December with his wife and three other family members.
"It was pretty amazing, something I didn't expect, something I had never experienced before," Chamberlin said.
Looking at the pictures of Van Gogh on the walls around him and on the floor below him, he remembers sitting on the floor, feeling that he and everyone else were "with it".
And as they left the show, he said, "We really didn't want to leave."