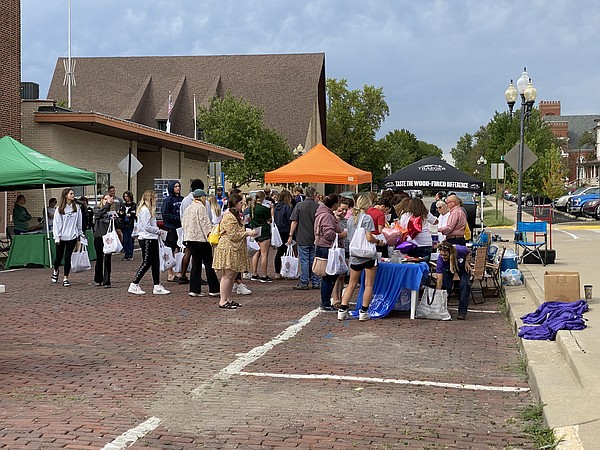 Middle schoolers have a blast at the Brick Blast
College students filled the Brick District yesterday for the Brick Blast.
This event was organized by Westminster College and William Woods University. Previously, Brick Blast was restricted to college students. This was the first year that faculty and staff from both schools were officially invited to attend.
The purpose of Brick Blast was to introduce students to the local businesses available to them in Fulton.
Sixth and Seventh Streets were blocked for traffic from 3 p.m. to 6 p.m. for the event.
A total of 37 companies participated in the event. Businesses that were not in the Brick District were also invited to participate. These companies had set up kiosks where they could interact with students and give away free items.
The students received a bag full of freebies and coupons for local businesses. They also received a Brick Blast passport, which could be completed by visiting listed participants and obtaining a stamp from them. When finished, students could drop it in a basket for William Woods or Westminster to enter into raffles.
Students who participated were able to get free samples at local restaurants and giveaways at stores. Raffles were also organized for those present.
Kristina Bright, executive director of marketing and strategic communications at Westminster, was one of the organizers of this year's Brick Blast. This was the first year that Brick Blast had college involvement for planning.
Bright said 226 students from Westminster and William Woods registered for the event. Some students also showed up without registering. Bright said she was very pleased with the turnout, especially for her first time planning it.
It took about a month to organize Brick Blast, Bright said. She is excited to do the event again next year, as she learned some things to implement and do differently.
Blaine McQuaid Pestle, Associate Client at Smith Moore, also helped organize this year's event. It has helped to involve all companies. Pestle said they hope to attract around 150 students, so they are very pleased with the number of attendees.
Pestle said she will continue to help with the event next year, as she feels it is very important for all companies to work together.
She thinks the Brick Blast event is important for introducing new Fulton students to all the services and opportunities available here, without having to drive to Columbia. She also said college students and staff are a big part of the community, so it's important that they stay involved and informed.