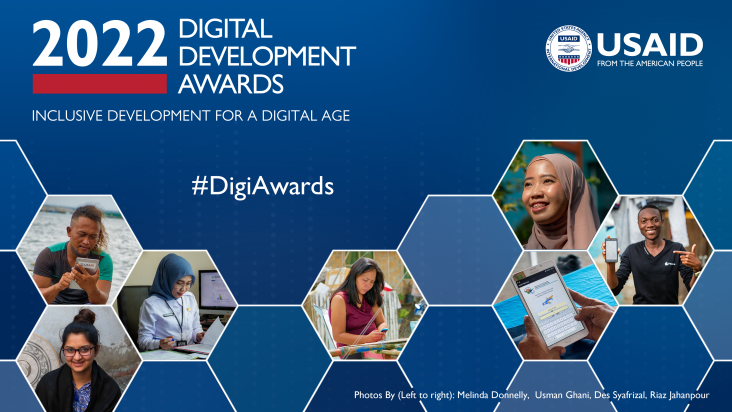 USAID Digital Development Awards 2022
Deadline: June 3, 2022
Nominations are open for the 2022 USAID Digital Development Awards. The Digital Development Awards (the Digis) recognize and celebrate USAID projects and activities that encompass the Agency's strategic goals of improving development assistance results. development and humanitarian assistance through the use of digital technology and to strengthen openness, security and inclusive digital ecosystems.
Digital ecosystems – the stakeholders, systems and enabling environment that together enable people and communities to use digital technology to access services, engage with each other or seek economic opportunities – hold immense potential to help people live freer and more prosperous lives. These ecosystems can help foster economic empowerment and financial inclusion, advance national security, support accountability and transparency in governance, and make development and humanitarian assistance more efficient and effective. .
Advantages
Winners will receive Agency-wide recognition and public visibility for their innovative work. This could include the following:
Time with a local photographer/interviewer who will work with you to capture the story of your project through visual and written communication materials

A profile in a Digital Development Awards booklet
A feature article on the USAID Exposure or Medium platform
Social media coverage

A physical trophy and certificate of appreciation (to be presented at a virtual awards ceremony attended by leaders from the digital development community)
Eligibility
Digis will be awarded to USAID-funded projects and activities that have:

directly deployed a digital technology or suite of technologies or
provided support to actors in the digital ecosystem to expand access and/or adoption of digital technology. Digital ecosystem actors include technology providers, financial service providers, government agencies, civil society organizations or other entities that deploy digital technology solutions or develop policies/regulations that enable a increased access and adoption.

All USAID staff and implementing partners working on a USAID-funded project are encouraged to apply, regardless of size, region, or portfolio of activity. Implementing partners should consult with the appropriate USAID point of contact before submitting a request.
USAID-funded private sector partners, as well as those who qualify as "new partners", "non-traditional partners" or "local partners" (see definitions of these partners here) are strongly encouraged to submit nominations.
Judgment criterion
Applications will be judged on the basis of four criteria:
The integration: The deployment of digital technology or the digital ecosystem has been integrated into the strategy, design, and implementation of a USAID project or activity that measurably contributes to the achievement of USAID objectives. development.
Principles of digital development: The project or activity aligns with the principles of digital development in strategy, design and implementation.
Impact & Sustainability: The project or activity has demonstrated a significant impact to date over the life of the project or has demonstrated sustainability since USAID support ended.
Inclusive development: If the project or activity is listed under the digital ecosystem support category, it must show significant action to increase the fair use of digital technologies and ensure that communities and organizations use digital technology in a safe manner and responsible. If the project or activity falls into the category of deployment of digital technology, it must show a significant effort to strengthen and/or support private sector engagement in the digital economy and support the capacity or efforts of institutions to strengthen the digital economy.
Application
Before you begin your application, review the required questions here. Applications must be submitted by 11:59 p.m. EDT on June 3, 2022.
Click here to apply
For more information, visit YOU SAID.